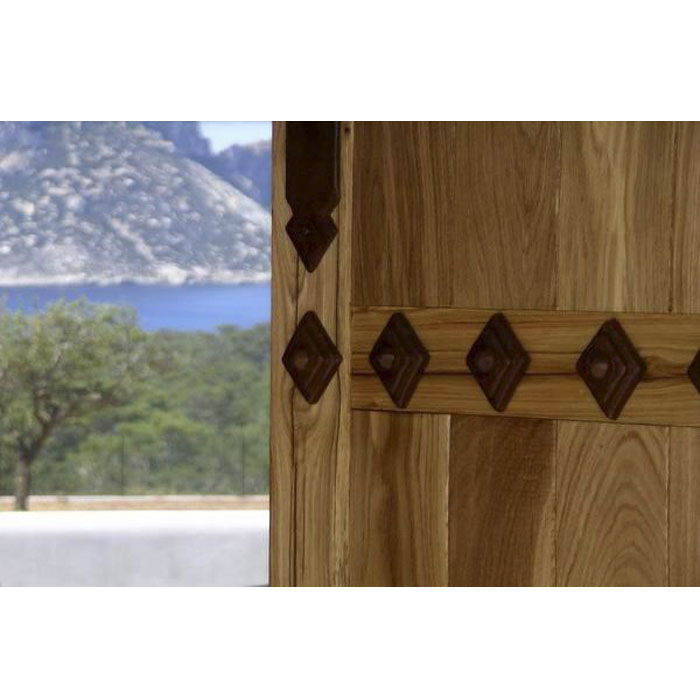 Posted in
Blog
Comments Off
/
Why oak?
Oak wood is classified as hardwood, are the main features of a hardwood such as the oak: increase or decrease very low volume, heat and very high cold insulation and a homogeneous behaviour, i.e. stability of wood to avoid future problems of movement.
The density of the wood of oak, is approximately double that of the pine, will make your door more durable and resistant in addition to better isolate you from the cold and the heat.
It is the basic material for the industry, moisture-resistant and permanent immersion. Its radial structure prevents the growth of fungi that can damage its internal structure.
What preparation does wood?
All the structures of our doors are alistonadas, also called laminated or section by section, to get a 10cm thick largueto we use three planks of 38 mm, carved and glued in a hydraulic press with moisture-resistant two-component glues. This operation prevents future cracks, unwanted movements of the wood and gives stability to the door.
On the other hand, every door, are applied two coats of bottom that prevents the growth of fungi in decay and attack of xylophagous insects and woodworms. Its high content of resin prevents the movement of the wood and helps the dimensional stability.
Color is applied diluted in extremely water repellent oils, which repel moisture and therefore reduces it or swelling of the wood.
Finally, a layer of transparent oil to homogenize the treatment for exterior.
All treatment is absorbed by wood, favoring its effectiveness, everything is open pore, without creating any layer to stop breathing to the wood.
What are the most common measures?
Overall dimensions of the door including the framework:
| | | | |
| --- | --- | --- | --- |
| | Alto (cm) | Ancho (cm) | Grosor (cm) |
| Puertas de interior | 205 | 76-96 | 4 |
| Puerta de exterior  1 hoja | 210-220 | 100-120 | 4.5,6,8 |
| Puerta de exterior  1 hoja + 1 fijo | 210-220 | 125-175 | 4.5,6,8 |
| Puerta de exterior  1 hoja + 2 fijos | 210-220 | 160-200 | 6,8 |
| Portón 2 hojas | 220-300 | 180-300 | 6,8 |
| Portón 2 hojas + 1 postigo | 220-300 | 200-300 | 6,8 |
* These are the most common measures.
The doors can be manufactured in any size depending on the needs of each customer, with a limit of 400x400cm.
What kind of lock do?
Gate classic mounts to all its doors, except locks inside, three pins of an anchor point safety locks, if you want to enhance security we recommend to mount another independent three bolts lock and an anchor point that works with the same key and reinforce them with bolts of wrought iron Interior.
Is the wood dry?
Each piece we use is controlled via a hygrometer for wood, all parts that we use for woodworking are below 12% of internal moisture, which is the optimal measurement for wood working.
Due to our production process, we cannot we work with wood above 12% moisture, since the alistonar wood adhesives and glues would be inefficient.
Because a wooden door can deplete or swell?
One of the properties of the wood that explains this behavior is Hygroscopicity, increasing dimension or swelling is due to the gaps between the microfibrils and elemental fibrils are so small that they originate Van Der Wall forces, which may pick up water from the atmosphere which surrounds it.
The reduction of the dimension or decline is due to desiccant force of the atmosphere which depends on temperature, relative humidity and pressure that is, is able to absorb water from the cell wall of wood.
In summary, the wood captures or releases water depending on atmospheric conditions (temperature, humidity and pressure).
To avoid this movement, classical gate applied to wood intensive treatments with extremely water repellent oils that penetrate the wood and prevent the exchange of moisture with the atmosphere and therefore the movement.
Going well in humid environments?
Yes, the oak wood is the basic material for the industry, moisture-resistant and permanent immersion.
Its radial structure prevents the growth of fungi that can damage its internal structure.
All of these features are reinforced with outdoor treatment.
Do you have immediate delivery doors?
If, in our showroom you will find rustic doors and doors of different models and sizes already manufactured.
If block you the measure, the direction of opening and must not make any modifications, available from the door or gate in 5 days.
For 5 days?
We must clean sawdust powder, review performance, level for proper installation and apply one last coat of colourless water repellent oil that it takes to dry a couple of days.
What is the delivery time?
The delivery time varies between 15 and 60 days.
This depends on the demand that we have, check with classic gate current delivery time.
The average is 45 calendar days.
Could you pay by credit card?
By now we have no pin pad, can make payments via bank transfer or in cash.
Do they have doors or doors of second hand?
No, all of our doors are manufactured in our carpentry.
We have an exhibition where you can find doors and doors with significant discounts.
They bring me the goods at home?
Yes, any order can be sent through a transportation agency.